Lahar Barrier for Termite Control in the Philippines
Menandro N. Acda
Dept. of Forest Products and Paper Science, College of Forestry and Natural Resources, University of the Philippines Los Banos, College, Laguna, PHILIPPINES

The eruption of Mt. Pinatubo in the Philippines in 1991 resulted in the deposition of a huge volume of ash and volcanic debris (some 11 billion cubic meters) over the surrounding area. Unfortunately, monsoon rains flush ash and volcanic materials down (as lahars) the slope of the volcano into surrounding lowland areas clogging up rivers and streams. Lahar is a mixture of ash, volcanic debris and water. It has been described as mudflow with consistency of wet cement. The deposition and blockage caused the lahars to jump off riverbanks sweeping away or burying towns, roads and bridges in their paths. This environmental catastrophe caused extensive loss of agricultural land, irrigation sources and affected the livelihood of tens of thousands of Filipinos in the region.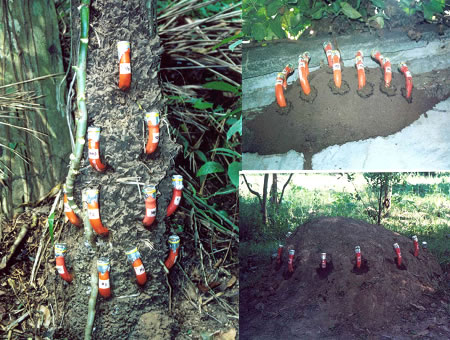 Figure 1. Field exposure setup to determine effectivity of lahar particles to prevent tunneling of Philippines subterranean termites.
The large volume of volcanic materials prompted government and private institutions to find ways to utilize and maximize its economic potential. Lahar from Mt. Pinatubo is currently being studied and developed for various applications in agriculture, ceramics, and construction engineering. One potential use of lahar is in termite control, specifically as physical barrier material against the entry of subterranean termites into homes and timber structures. Subterranean termites are serious structural pests of homes and wooden structures in the Philippines. Structural and financial damages caused by these insects are estimated to be in the hundreds of millions of dollars annually. This project hopes to address both problems by studying the effectiveness of using lahar as physical barrier to exclude subterranean termites from homes and timber structures in the Philippines.
| | |
| --- | --- |
| | |
| Figure 2. Installation of lahar barrier beneath the floor of a small house to determine ability of barrier to prevent infestation of subterranean termites. | Figure 3. A small house protected by lahar barrier remains free from termite activity after more than two years of exposure. |
Dr. Acda conducted extensive laboratory and field studies (Fig. 1) that resulted in a pre-construction method (Fig. 2 and 3) that prevents tunneling and penetration of subterranean termites into wooden structures. It involves installation of pre-screened lahar particles beneath floors and around foundation walls of wooden structures. To prevent termite penetration, the lahar aggregates have to be large enough to prevent termites from moving them with their mandibles, but small enough so that termites could not crawl between them. The effective particle size, which is dependent on the mandible and head capsule dimensions of the target termite species, have been shown to prevent tunneling of four destructive subterranean termites in the Philippines, viz., Coptotermes vastator Light, Macrotermes gilvus Hagen, Nasutitermes luzonicus Oshima and Microcerotermes.
If proven effective, this technique can offer an alternative method of termite control without using large amount of persistent organic pesticides, provide employment opportunities to people directly affected by the eruption, and contribute to the restoration of blighted land to productive condition. In addition, utilization of lahar from affected river systems will help improve the profile of streambeds and river channels, thus benefiting flood control, irrigation and water quality. In recognition of the potential impact of this technology, the Dept. of Science and Technology and the National Academy of Sciences and Technology of the Philippines awarded Dr. Acda the 2007 Julian Banzon Medal for Applied Research for this project.
Acknowledgments:
This project is supported by the Charles A. and Anne Murrow Lindbergh Foundation, Anoka, MN, USA and the Ford Conservation and Environmental Grants.
__________
Dr. Menandro N. Acda is Associate Professor and Chair of the Dept. of Forest Products and Paper Science, College of Forestry and Natural Resources, University of the Philippines Los Banos. He finished his Bachelor of Science and Master of Science degrees from the University of the Philippines Los Banos in 1986 and 1992, respectively, both in the area of Wood Science and Technology. In 1995, he obtained his Ph.D. in Wood Preservation and Biodeterioration from Oregon State University, Corvallis, OR., USA.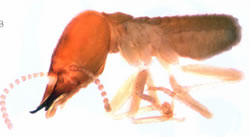 Figure 4. Schedorhinotermes makilingensis Acda, a new species of termite recently discovered in Mt. Makiling, Los Banos, Philippines.
Dr. Acda research interests include termite biology and control and bio-based composites. He is considered one of the leading experts on subterranean termite in the Philippines and has published a number of articles in international refereed journals including the discovery of a new species of termite from Mt. Makiling (Fig. 4). Dr. Acda is also working on several areas that are geared toward the protection and conservation of the environment through efficient utilization of natural resources. His current projects include utilization of waste chicken feathers for low cost building materials, the use of sludge from paper recycling mills as additives in wood-plastic composites and search for benign bio-pesticides against destructive wood boring insects such as termites and powder post beetles.